Wedding Socks now avaialble to personalise for any role of the wedding Party.
Groom, Best Man, Usher, Father of the Bride, Father of the Groom, Grandfather of the Bride, Grandfather of the Groom, Stepfather of the Bride, Stepfather of the Groom & Page Boy are just of some of our many designs.
We have several more designs to choose from which can be personalised with names to add that extra personal touch to the day. Why not get the your father a pair, of all our walks this is my favourite socks which includes a personalised date.
These great personalised socks are now only £5.00 per pair and are available in children's one size (12-3.5) and adults one size (7-11).
Keep looking for more designs or alternatively get in touch as we can make your own custom socks for the special day.
Accompany these great wedding socks with Boxer shorts or our range of cufflinks also available to purchase online.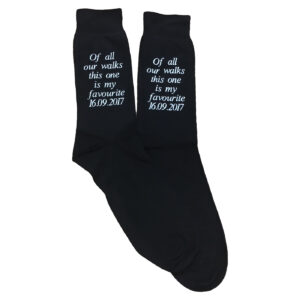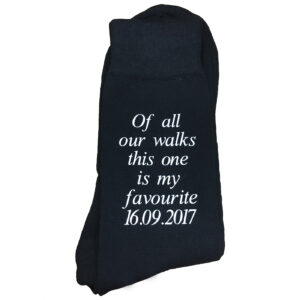 Of all our walks socks
Of all our walks this one is my favourite socks, the perfect gift for the Father of the Bride for a walk that he'll never forget.
not rated
£

5.00
Select options