Your personalised woo way bracelet can help with meditation and mindfulness.
Our definition of woo way is a state of personal harmony and effortless action. Adopting a woo way mindset can result in free flowing spontaneity.
Woo way is the ability to just be. Going with the flow. Getting in the zone. A silent power that can illuminate your natural charisma.
Your woo way bracelet has been designed to help with mindfulness and meditation. For many years the power of natural crystals has been recognised and used to help individuals heal. Mindfulness and meditation has so many benefits. It can help you sleep, relax the mind and body, boost your energy, bring balance and give a feeling of peace and well being. It can help you discover your own inner woo way.
Each woo way bracelet is unique. Use it to help practice meditation or just enjoy the healing energy of the precious stones.
Hang your woo way bracelet on the middle finger and use your thumb to rotate each bead towards yourself.
When you reach the silver hand hammered woo way disc simply reverse the process.
As you rotate each bead you can simply take a breath or say an empowering mantra.
​Do it daily or whenever you feel like it, there are no rules.
​Just relax and enjoy a moment for calm and stillness.
​Choose the bracelet which most suits you and your personality.
​Love peace and happiness.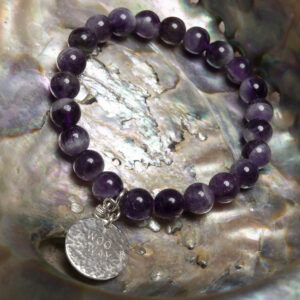 Amethyst Woo Way Bracelet
Personalised woo way bracelet for mindfulness and meditation.
Amethyst
Peace – Focus – Protection
Believed to help with creativity.
Helps to find peace calm and spiritual awareness.
Can relieve emotional distress and improve clarity.
Suggested mantra …………….I am peaceful and safe…………….
not rated
£

36.00
Select options