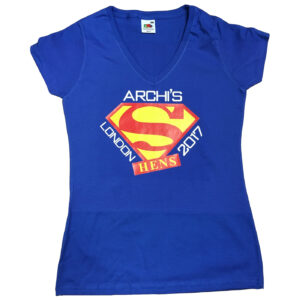 Super hens t-shirt
Super Hens t-shirt available in a choice of colours. Personalise this t-shirt with a name of the bride, destination & year on the front and you can also include a name/nickname on the reverse if required.
Please note the super hens comes in Red/yellow print and the colour option is to change the surrounding wording and will also be used for the reverse.
not rated
£

9.95
Select options
All of our hen t-shirts can be ordered online, however we appreciate it can be a long winded process ordering such items, especially for a large group. Alternatively we are more than happy for you to email us the order in whatever format preferred e.g table or a spreadsheet to sales@forevermemories.co.uk. If you have any queries before emailing your order please call Amy, Lottie or Steve on 01384 878111 who will be more than happy to assist you with answering any questions you may have. *Please note we only accept orders online or by email which is to ensure all personalisation & spellings are correct.